dreams: shattered by motherhood?
September 14, 2011 in mommy stuff
I never dreamed about being a mother when I was younger. I didn't even get the baby bug until my early thirties as I noted in my previous post. Before then, I had dreams about being financially successful, a business owner, a traveler
, and a photographer
, just to name a few. I was definitely on the road to these dreams before I became a mom but now motherhood has taken these dreams to the back burner.
You see, by the time I finally dreamed about being a mother, it pretty much consumed me.  It was all I could think and read about. You know how it is when you start trying to have a baby, you go crazy tracking your ovulation days or when to have sex, etc. Reading up on birth stories (and what can go wrong!), getting information on how to "do it" to ensure a certain baby gender, and all the baby/parenting books you can get your hands on. This dream came true for me pretty quickly despite the miscarriages I went through.
So what about my other dreams?
I'm in so thick in motherhood
right now I don't see how I can fit my other dreams in. I've always wanted to have my own business whether it be related to my passion for photography or some other venture like owning a baby store of some sort. When will be the right time for this? How would I be able to juggle the demands of motherhood without losing my own dreams? I have all these questions about the things I want to do but not sure where to look for the answers.
However, I know that every day is getting easier for me to do the things I want to do. For example, it speaks volumes that I'm able to blog! As well, it's not as if we've stopped traveling since having our babies (need to do it before they turn 2 to save loads of money!). I still take TONS of photographs of our girls so I'm still practicing. As for being a business owner, it may be on the horizon.
I think my dreams aren't completely shattered yet, but maybe just altered or delayed. As long as I keep dreaming and keep them alive inside me, they will come true in due time.
Always dream big!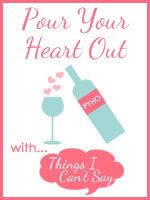 Have something passionate to say?
Join in on "Pour Your Heart Out" Wednesdays with Things I Can't Say and link up!
If you enjoyed this post, make sure you subscribe to my full RSS feed by email!